Meet the Owners
Bill and Janet Harris - President and Office Manager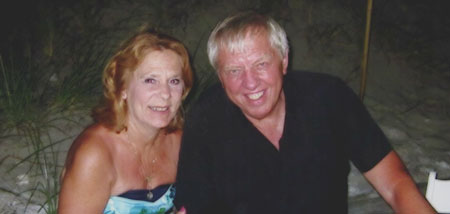 Bill is the president of JWH Construction, and has built our business on a strong foundation of friends and family. For years, he has worked alongside Janet, who has been his angel to light up the office any time he needed a smile. They have worked as a dynamic duo together with Bill taking on the construction and estimating, while Janet kept the books, and accounts squared away.
When these two are not back at the office working, they enjoy spending their time down at their house in Florida where they can relax with the sun, the sand, and some Tito's in their hands! Bill loves to go play golf with his family when the weather is right, or sit back and read a good book. Janet is an avid crafter whose talents include quilting, crocheting and, painting. Both love to go record hunting, and sit back and listen to a good vinyl album now and then.
Meet the Supervisors
Billy Harris - Vice President and Senior Supervisor
Billy Harris is the son of Bill Harris, and is the Vice President of JWH Construction as well as one of our senior supervisors. Billy takes on even the toughest, and most laborious job with a smile. He is great with our customers, and when working in a plaza with operating tenants, he makes sure that they are not disrupted by construction. He will get the job done, no matter how hard, or how many hours he must put in. As a working supervisor, he not only coordinates the work, but steps in to do a lot of it himself. If there is a jack-hammer on site, you will often find Billy behind it! When Billy is not at work loves to spend time with his son and daughter. He helps coach basketball at his son's school, and loves to work on improvements to his house.
DC Lashmit - Senior Supervisor
DC has been friends with Billy since high school, and has put in countless hours working with us at JWH. He is a graduate of WPI and is great at putting brains and brawn to the test when projects get complicated. Because of this, he is our second senior supervisor. DC brings a great mix of demo, carpentry, and a lot of good laughs to the company. He is always willing to lend a hand whenever and wherever we need him. When DC is not on site with us he loves to spend time with his family, or working on his house. He always has a new project to undertake at home, and a good story to go with it.
Joe Bassett - Supervisor
Joe has been working with us for over five years now, and has become one of our project supervisors in that time. Joe can do a little bit of everything and does great at keeping a job going. He is willing to travel, and often will work out on The Cape for us when those jobs arise. When Joe is not on site he spends time with his family, and often travels back to his hometown in upstate New York. He enjoys the outdoors, and loves to snowmobile.
Meet our Laborers
Tyler Marchand - Junior Supervisor, Demolition, and Jr. Estimator
Tyler is a Construction Management Graduate of 2017 at Fitchburg State University. He has been working part time with us for the last two years to try and broaden his education in the field. He was a Carpentry student and football player at Blackstone Valley High School. When Tyler is not at work, he often spends time working on small projects with his father, he loves to ride his motorcycle, go hunting, and hang out with his friends and family.
Felipe Gomes - Laborer, Demolition
Felipe is a Construction Management Graduate of 2017 at Fitchburg State University. As one of our newer full time employees, Felipe has become the bull when it comes to demolition. Felipe is willing to give a helping hand on any task, but has proved to be especially helpful with the demolition front. between his strength and willingness to go the extra mile, he has been a great addition to our crew. When Felipe is not at work, he enjoys fishing, spending time with friends, and his mother.
Ben Johnson - Skilled Carpenter, Laborer, Demolition
Ben is skilled in carpentry and previously was a mason, he is skilled in many things and always able to lend a hand. Ben is always on time and does a good job with his work while he is on site with us. On the weekends he likes to spend time with his kids.
Darren Otte - Laborer, Demolition
Darren is the youngest member of our crew and can been seen all over our jobsites. Right now Darren helps a lot with demo and rough carpentry and is learning a lot along the way. Darren is no stranger to the Harris Household though, he is one of the cousins and is a close member of the family.
Meet our Office Staff
Lindsey Maiuri-Campos - Design, Estimate, and Project Coordinator
Lindsey has graduated from New England Institute of Technology with a Bachelors in Interior Design, and is working on her Masters in Construction Management. She helps with many of the tasks with the business from some onsite clean up here and there to helping with estimates and project coordination. Lindsey loves to work on concept design projects when they come her way. Outside of work she loves to craft, read, and do outdoor activities in the summer.
Toni Maiuri - Accounts Payable/Receivable or Insurance
Toni has been with us for a year. She helps onsite, often as a ground girl, cleaning, or helping wherever she can. Most often though you can find her in the office keeping the endless number of files straight and helping keep tabs on project costs. Outside of work Toni likes photography, drawing, and is a great cake baker and decorator.
Meet our Extended Family
Tom Golden - General Repair and Maintenance
Tom has worked with JWH for many years. He is our permit specialist and helps with many other office and site tasks. Tom is the one who files for permits, and does our inspection walk through's. Tom is also responsible for obtaining all insurance and safety information from subcontractors. Tom spends his hours outside of work up at his cabin in upstate New York, and with his family and grand kids.
Keith Meyer - Meyer Construction
Keith has worked alongside JWH Construction for years as a carpenter, and site supervisor. He does a lot of work for us with the numerous wireless store build outs we do a year, and is a fixture assembling machine! Outside of work Keith likes to play the drums, work outside, on his home, and spend time with his kids.
---